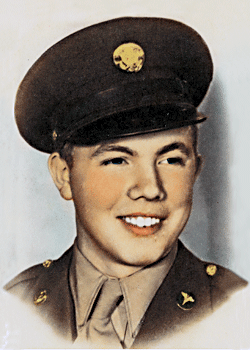 Paul Smatlak
Biography: Paul Smatlak was born on February 4, 1923, in Johnstown, Pennsylvania. He was the son of John Smatlak and Anna Payerchin and attended local schools in Johnstown through the 12th grade. After graduation, Paul was employed as a steelworker for Bethlehem Steel.
Service Time: Paul entered the service on January 6, 1943 at Altoona, PA. He received his early training at Camp Bowie in Brownwood, Texas, where he was assigned to the 817th Tank Destroyer Battalion and completed their basic training. From there they went to Camp Hood, TX and he was assigned to various companies before being assigned to Headquarters in support of Company B. He and a few others were sent to Brooke General Hospital in San Antonio, TX where they took part in a two-month course to become Medical Technicians. At the completion of their training, they were all promoted to Technicians, 5th Grade.
The 817th moved to Camp Phillips, Kansas, and spent additional time at Camp Breckinridge and Fort Campbell, Kentucky, and Tennessee where they remained during the Tennessee maneuvers. From there it was onto Camp Myles Standish, Massachusetts, in July, 1944, where they prepared for shipment overseas. They boarded the U.S.S. Mt. Vernon and sailed without any battleships to protect them, arriving in Greenock, Scotland, on July 31st to begin training for combat in France. They boarded LSTs (Landing Craft Tank) and landed at Utah Beach in Normandy, France, on August 25th.
The unit took up rear-area security duties in France and Belgium and guarded COMZ (Command Zone) from August to November. They entered battle in the Hürtgen Forest with the 8th Infantry Division on December 9th and shifted to the Ardennes in February, 1945. They were then sent back to Roer River sector to fire as artillery and participated in the advance to the Rhine River with the cavalry.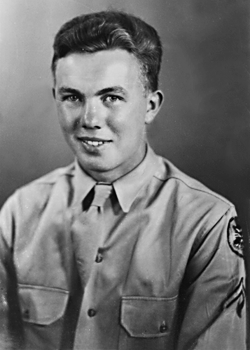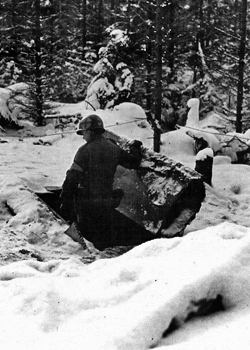 The photo shown above right is Paul entering an underground first aid station, just a mile from the front line. It was taken in December, 1944, and Paul did not see it until 2006, when it was sent to him by Carole and Alun Jones of Nairne, Australia. The couple acquired a number of WWII photographs but only five of them had names of the personnel shown. It was their hope that they would be able to get the photos back to the families of the men shown in them.
Throughout their time in combat, it was standard procedure for Paul and the other medics to go to the front lines to provide what medicine and first aid they could, as well as bring back the injured for additional treatment. This was all done in the middle of the night with their jeep's lights blacked-out. In addition to Paul, two other men, Cyril Reynolds from Iowa and Sam Imelli from Nevada, were assigned to B Company. Paul was the youngest at 21, the other two were in their mid-30s.
During the time the unit was in the Hurtgen Forest of Germany, while traveling in a convoy, they were strafed by enemy aircraft. Paul was hit by shrapnel in both legs, so he jumped from the jeep and rolled down the cellar steps of a house for cover. On February 2nd, he administered first aid and evacuated Cpl. Edward H. Myers while they were under constant enemy fire and artillery shelling. He also helped evacuate five other wounded men. For these actions, he received the Bronze Star.
The 817th crossed the Rhine river at Remagen on March 15th and were the only towed TD battalion to enter the bridgehead. They began conversion to M18 tank destroyers on March 26th and joined the 104th Infantry Division at the Ruhr Pocket in April. Two companies of the unit joined the drive eastward from Marburg in mid-April, fighting in the Harz Mountains, helping capture Halle and then advancing to the Mulde River where offensive operations ceased.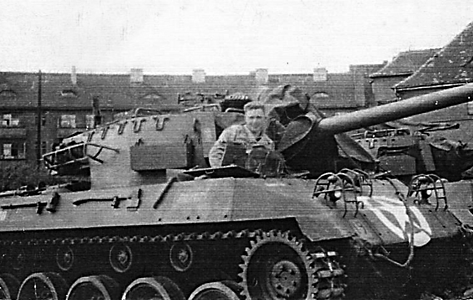 The photo at left was probably taken after hostilities had ceased. Paul would have normally traveled by jeep or truck so standing in one of the unit's M18s was a good opportunity for a photo.
Paul shipped home on December 16th aboard the S.S. Coaldale Victory. The ship was small and both the passengers and crew were sick from the rough voyage. They arrived in the U.S. on December 26th, just after the Christmas holiday. He was discharged on the 31st, at Indiantown Gap Military Reservation, PA. He received credit for the campaigns of Northern France, Rhineland, Ardennes-Alsace and Central Europe. He also received the EAME, WWII Victory, American Theater and Good Conduct medals along with a Meritorious Unit Award and Certificate of Merit. As mentioned previously, he received a Bronze Star for his actions in Germany. In addition to Paul, his brothers John and Mike also served in WWII with his brother Joe serving in the Korean War.
Memories of WWII – Paul's personal recollections, edited by his son John.
Paul's medic friend Cyril enrolled in Southwestern Bible Institute in Waxahachie, Texas. He convinced Paul to attend the school with him, which was a two-year program. He studied there from 1947 to 1948, receiving a math degree. He returned to Johnstown and worked for Bethlehem Steel as a Scheduling Clerk, remaining there until his retirement.
On May 5, 1948, Paul married the former Sophie Rusnak who was born in Sharpsville, PA and was the daughter of John Rusnak and Mary Kicin. They made their home in Johnstown and had five children, Rebecca, born in 1950, Paul in 1952, John in 1956, Marlene in 1958 and Pam in 1959. In his spare time, Paul enjoyed being with his family, watching baseball and cars. He was an active member of the University Park Church of God and participated in their prayer group. Paul's relationship and faith in God were very important to him as he attributes it to seeing him through the war and being with him throughout his life. After his retirement, Paul drove a school bus.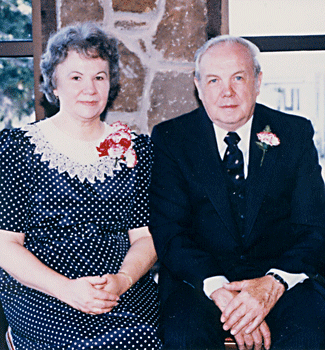 He was also able to return to Europe on three occasions, 1990 with the Richland School Band, and in 1994 and 1997 to locate and, if possible, visit his ancestors in Slovakia. Paul passed away on June 8, 2014, and was buried in the Grandview Cemetery in Johnstown.
I want to thank Paul's son, John, for providing the photos and information for this tribute.