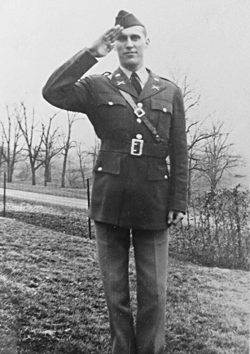 Ambrose G. Salfen
Biography: Ambrose George Salfen, "Buddy", was born on January 22, 1915, in O'Fallon, Missouri. He was the son, along with four sisters, of Albinus L. Salfen and Josephine L. Hanley. He attended local Catholic schools in O'Fallon. During the summers while he was in college, he drove trucks at the TNT plant in nearby Weldon Spring. Buddy graduated from the University of Missouri College of Agriculture, Columbia, MO, in 1942. In his senior year, he was president of the Ruf Nex Fraternity which was composed of junior-senior students who were outstanding in the activities of the Ag Club and as leaders in the various other activities of the College of Agriculture.
On July 18, 1942, he married the former Elizabeth F. Frederick in Allentown, Pennsylvania. She was born in Allentown and was the daughter of Herbert B. Frederick and Elizabeth F. White.
Service Time: Buddy participated in ROTC (Reserve Officer Training Corps) while in college and was commissioned as a 2nd Lieutenant on February 2, 1942. Following a refresher course at Fort Sill, Oklahoma, he was assigned to the 601st Tank Destroyer Battalion at Camp Blanding, Florida, in April, 1942. He was then sent to Fort Benning, Georgia, to study communications. Two weeks later, he was ordered to report to Indiantown Gap, PA, where the 601st was training. He was assigned to Battalion Headquarters as the Communications Officer.
The unit shipped out from the New York port and arrived at Gourock, Scotland, on August 9, 1942. Their Reconnaissance Company landed at Oran, Algeria, on November 8th as part of Operation Torch, and the rest of battalion arrived in December. They fought in the Battle of Kasserine Pass in February, 1943, and at El Guettar in March. On November 9th, several Company B, 2nd Platoon, tank destroyer's (TD's) were exposed to heavy enemy shelling and one TD stalled. Buddy, the Platoon Commander, and one of his sergeants left the safety of their vehicles, hooked a chain to the disabled TD and pulled it until it started, allowing it and the crew to move to safety. He was awarded a Bronze Star Medal for valorous conduct. The 601st was originally equipped with M3 GMC Tank Destroyers, but converted to the M10 Tank Destroyer at the end of the North Africa campaign. Lt. Salfen was assigned to Company B at the end of the African Campaign.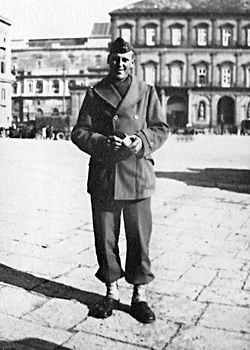 They would go on to participate in the invasion landings at Salerno, Italy, on September 9th, where Buddy was made Commanding Officer of Company B. They made their third D-day assault at Anzio on January 22, 1944. On January 30th, when a group of American Rangers were threatened with entrapment by heavy enemy fire, he directed his TD to within 150 yards of the enemy and directed fire onto their positions, destroying a number of them and enabling the Rangers to retreat. He was awarded a Silver Star Medal for these actions. Buddy was wounded on May 23rd when an exploding German land mine sent shrapnel into his legs. He spent three weeks in a hospital in Naples, missing the tour of Rome many American troops had in June. Following his release from the hospital, he was able to take a jeep tour of the city.
The 601st then participated in their fourth assault landing in Southern France on August 15th. Advancing to the German border in the Vosges region, they participated in the reduction of the Colmar Pocket in late January and February, 1945. Buddy was again wounded, on January 23rd, when an enemy mortar fragment struck him in the foot. Following surgery, he was sent to a Paris hospital for two weeks. Buddy did not return to the unit following his hospital stay in Paris. He was sent to a VA Hospital in Thomasville, Georgia and was later sent to another VA facility, Welch Convalescent Hospital, in Daytona Beach, Florida. He and Elizabeth divorced in 1945 while living in Florida.
The 601st received credit for nine campaigns, including Tunisia, Sicily, Naples/Foggia, Rome Arno, Southern France and Rhineland. In addition to the referenced campaign credits and Silver and Bronze Stars, Buddy received the Purple Heart with Oak Leaf Cluster, EAME, WWII Victory, American Campaign and the American Defense Medals. He would also share in the two Unit Citations awarded to the 601st. Buddy was discharged from Welch on July 15, 1946. After several months in the inactive reserves, he retired as a Major on January 18, 1947.
Purple Heart, Bronze Star and Silver Star Documents
Discharge – Separation Document
After returning home, Buddy worked as an outside Sales Manager for Ralston Purina, based in St. Louis, MO. At some point, he moved to New Mexico. On October 15, 1949, he married the former Emma E. Cox, "Betty", in Silver City, NM. She was born in Deming, NM and was the daughter of Aury C. Cox and Mary I. Rigney. Buddy adopted Betty's two children, Kathy and James. The couple had a daughter, Aurie Jo, in 1950.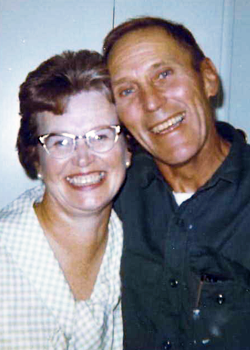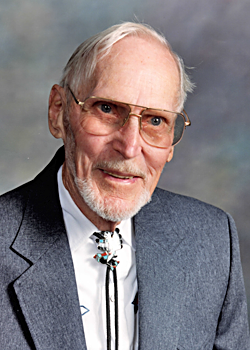 The family moved to Idaho in 1954 and Buddy worked as a salesman for several firms including Zamzow Coal and Feed, Mitchell Lewis & Staver and the Chet Jamison Agency in Boise, ID. With his degree in Agriculture and his real estate license, he was hired by the Farmer's Home Administration in 1959 to assist farmers with housing loans, which resulted in moves to Rupert, ID and then to Weiser, ID in 1962. He loved working with farmers to improve their lives. He was also active in community projects with the Catholic Church, the Elks and the Washington County Roundup Association. For a number of years, he was on the Board of Directors for the Weiser River Irrigation District and monitored accurate payments and use of water. The Church gave him an annulment of his first marriage and he was un-excommunicated, which was important to him.
Halftrack article – Idaho Newspaper Association
Buddy passed away on November 22, 2004, and was buried in the Masonic Cemetery, Silver City, New Mexico. We would like to thank his daughter, Aurie Jo, for providing information and photos used in this tribute. Thank you also to Find a Grave contributor Janet for use of the grave marker photo.