The following reference materials played a large part in providing information about my father's unit but also in giving me a much greater understanding of WWII and the men and women that served. When I started my research, I really did not have a good understanding of anything relating to these subjects. Now that I know how much research is required to write a good document on any subject, I take my hat off to the authors that have taken their time to preserve and document such a critical time in world history.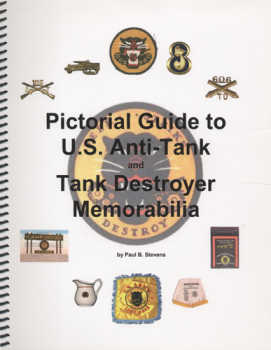 When I began researching my father's career, I naturally gained an interest in all things Tank Destroyer.  I would check Ebay daily for leads but also for the "stuff" that relates to these men.  Patches, pins, pillow cases, post cards, match covers and so much more.  On a number of occasions, I would come up bidding against a very serious TD collector.  Once and a while I would get something I was after but there were many times I didn't.  It would be years later that I would be in contact with Paul B. Stevens the author of the Pictorial Guide to U.S. Anti-Tank and Tank Destroyer Memorabilia.  In a way, I guess I'm glad he got all those items, because this book is certainly the standard to go by for Collecting them.  Beyond what he has been able to collect, Paul has pulled from many other sources to thoroughly cover the subject, including museums and other collectors to provide unparalleled group of items and variations.  He says that his guide isn't complete but if he doesn't have it in the book, I would be truly interested in seeing it. 
Like so many works like this, Paul has dedicated his book to his father, Stewart P. Stevens of the 894th Tank Destroyer Battalion. 
NOTE:  A revised and expanded edition of the Pictorial Guide is now available through the ASMIC (American Society of Military Insignia Collectors).  The guide is $25.00 for non-members and can be ordered using their Catalog Order Form, located in the Publication area of their website.  See it at www.asmic.org.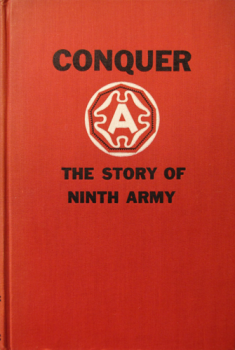 Conquer: The Story Of The Ninth Army 1944-1945 by Col. Theodore W. Parker, Jr., and edited by Col. William J. Thompson was published in 1947 by The Infantry Journal Press, Washington, D.C., and has 236 pages. The book covers the Unit History during World War II, from September 5th, 1944, Brest and Brittany, the November Offensive, the Roer and the Rhine, crossing the Rhine, the Ruhr and the Elbe, to the end of the War in Europe with the occupation of Germany. Illustrated with photograph, maps, including a full color endpaper map, combat operations, a chronology of events from May 22, 1944 to October 10, 1945, a listing of key Headquarter personnel, officers and enlisted men, and various military statistical data.
My particular copy was signed by Lt. Gen. William H. Simpson himself with a nice note of appreciation to a Colonel Barney Oldfield, who was the Director of the Ninth Army Press Camp.
This book is not currently available except through used or antique booksellers.